Sleep for Kids
The amount of sleep children get directly impacts their mental and physical development.  According the National Sleep Foundation, sleep is the primary activity of the brain during early development, and by the age of two most children have spent more time asleep than awake!  Have you ever wondered how much sleep you child needs?  Below is a guideline from the National Sleep Foundation for how much sleep a child should get per 24 hour period:
Toddlers (1-2 Years): 11-14 hours
Preschoolers (3-5 Years): 11-13 hours
School Aged (6-13 Years): 9-11 hours
There are many factors that can affect children and their quality of sleep.  Screen time, extracurricular activities, special routines, and even diet can all change how deeply your child sleeps.  With so much going on throughout the day, it is so important to create a sleep-friendly routine for your children.  Young Living has products that can support you on your venture of creating a calm environment for a perfect bedtime routine!
https://www.sleepfoundation.org/articles/children-and-sleepSleep Foundation Org
SleepyIze Essential Oil
SleepyIze is made with oils known for their calming and ground properties: Lavender, Geranium, Raman Chamomile, Sacred Frankincense, Valerian, and Rue essential oils. It also contains Tangerine and Bergamot essential oils which have sweet aromas and help to round out the formula. Use SleepyIze to create a calm environment by diffusing it at night in your children's room. You can also apply it topically to your child's feet, back, or neck. SleepIze is a great oil to add to your child's lotions, body wash, or even directly in the bath.
Peace and Calming Essential Oil
Peace and Calming is a gentle, sweet, and calming blend made with Ylang Ylang, Orange, Tangerine, Patchouli, and Blue Tansy. Adding Peace and Calming into your kid's nighttime routine will make your night more 'peace and calm'! We recommend using Peace and Calming in your children's diffuser after a busy day to help create a fresh, peaceful environment. You can also use Peace and Calming Roll-On by applying it on the bottom of your kid's feet, down their spine, on their temples, or even across their shoulders. You'll love using this blend during the bedtime routine or even for yourself after the house has settled down.
Lavender Essential Oil
Lavender is probably the most well-known essential oil when it comes to creating a calm, soothing, relaxing environment. Lavender is gentle enough for the littlest members of your family, and yet has powerful properties that make it a must have for all parents. Lavender has balancing properties that calm the mind and body and may fight occasional nervous tension. Add this to the diffuser, bath, or infuse lotions with Lavender. It's also a great for diffusing, fill your bedroom with Lavender's calming aroma in the evening for a soothing space conducive to sleep. Infuse the nursery with this gentle floral scent during nap time for a welcoming and restful environment that sets your little one up for sweet dreams.
Calm Essential Oil
Calm is an essential oil blend from our Seedlings collection. This oil is a blend of Lavender, Coriander, Bergamot, Ylang Ylang, and Geranium and is used in our other Seedlings products like baby lotion, wipes, linen spray, baby wash, and shampoo.  This blend can transform any room into a peaceful cozy nursery and help parents and baby relax during their nighttime routine.
DIY Monster Spray for your kids
Bedtime can be a struggle for parents and kids alike.  It can seem like the excuses never end, and sometimes real fears of imaginary foes keep little ones awake well past dark.  Whether it's monsters in the closet or little monsters not wanting to go to bed, reach for our DIY essential oil monster sprays.  Featuring a fresh lineup of essential oils in a convenient bottle, these monster repellent sprays freshen the room and make bedtime a breath of fresh air.
What you will need:
Glass spray bottle
6 tablespoons (3 ounces) water
2 tablespoons (1 ounce) witch hazel
Essential oil monster blend of your choice
 Mix up these homemade monster sprays and keep them on hand to use during your bedtime ritual.  Help the kids get to sleep by spraying them together inside closets, under the bed, and around curtains to keep their fears at bay.  Of course, you can't go wrong with Lavender essential oil's aroma either.  Its scent can help your little ones relax, and it promotes feelings of calmness.  Use this same recipe to mix up a simple Lavender spray to use in every bedroom in the house.
YL tip: Make your monster blends extra restful by adding 9–10 drops of KidScents SleepyIze™ for a peaceful environment!
* Avoid spraying near the eyes or skin. These statements have not been evaluated by the Food and Drug Administration. These products are not intended to diagnose, treat, cure, or prevent any disease. Sprays have not been evaluated for use against zombies, ghouls, goblins, trolls, or werewolves.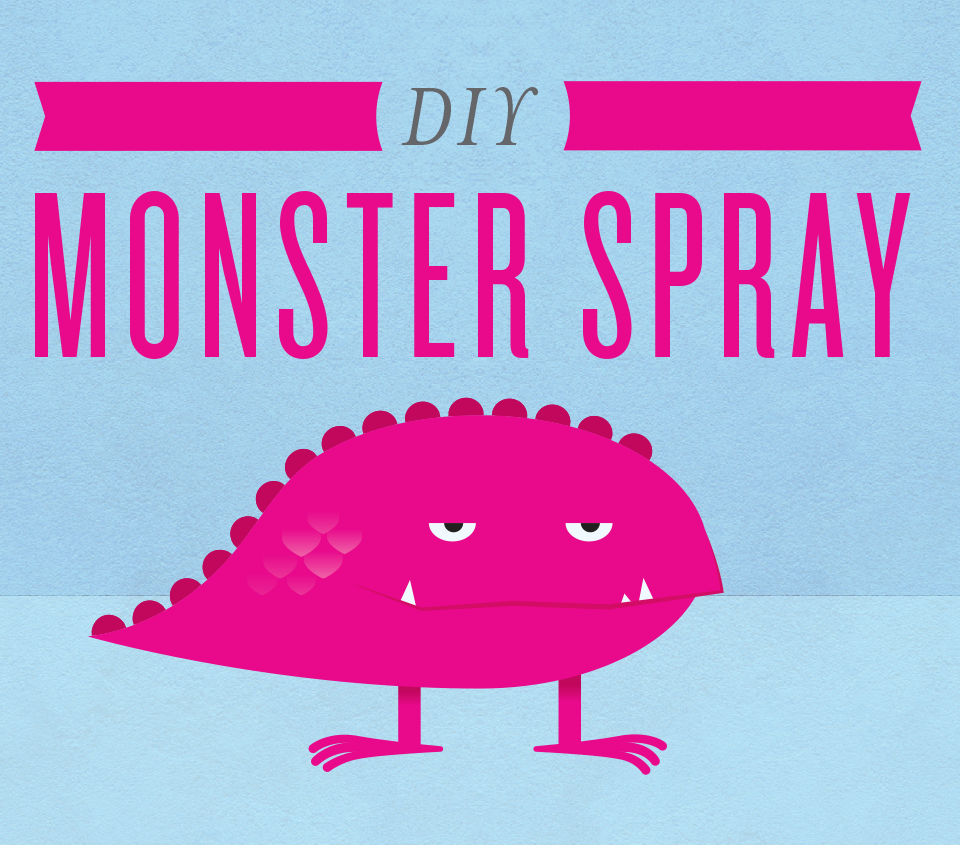 Printable monster spray labels make it fun and easy to keep track of your favorite sprays.
This post first appeared in the Young Living Training and Education Group