Not your average gummy: The tastiest way to support immunity*
If you're searching for a fun and yummy way to support your family's immune health, look no further than Young Living's new Immugummies™ supplement. These elderflower-flavored gummies pack a punch of immune support* and natural fruity flavor in every chewy bite. Let's take a deep dive into what makes these gummies so special and how they can benefit your family's health.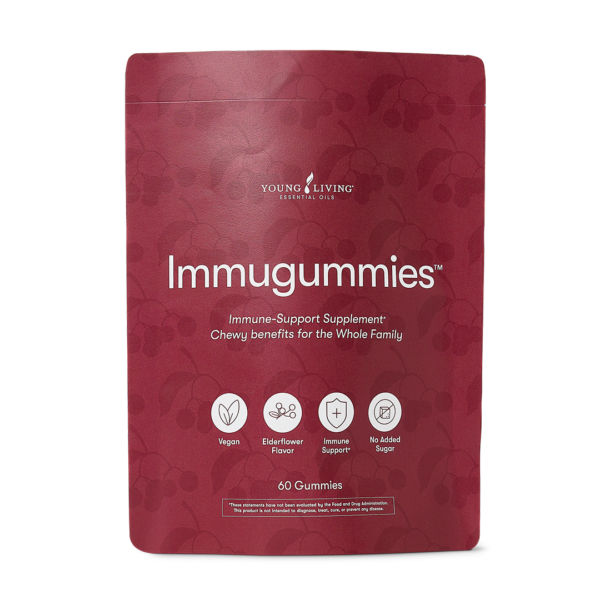 What exactly are Immugummies?
They're a unique blend of pure algal beta-glucans, elderflower, elderberry, and Lime essential oil. This powerful combination of ingredients provides nutritional support for a healthy immune system and encourages optimal immune function. And since they're formulated for ages 4 and up, your little ones can join in on the immune-supporting fun too!*
Why you need immunity gummies
Your immune system plays a critical role in protecting your body from harmful pathogens like viruses and bacteria. However, things like stress, lack of sleep, and poor nutrition can weaken your immune system, leaving you vulnerable to illness and infection.
In fact, did you know that 1 in 3 Americans does not get enough sleep and only 1 in 10 adults in the U.S. eats enough fruits and vegetables?
Maintaining healthy habits can be hard, even for the most dedicated wellness enthusiast. That's where our Immugummies supplement saves the day. These yummy gummies provide you and your loved ones with immune-supporting nutrients, such as beta-glucans and antioxidants, making it easy to stay well when life gets hectic.*
What do our immunity gummies do?
Our tasty little gummies naturally support your immune system by helping to maintain key immune cells.* How do they do this? The secret lies in these four superstar ingredients:
Algae-sourced 1,3 beta-glucans. This type of beta-glucans supports immune health, immune function, and upper respiratory tract health.* The ones in our gummies are sourced from Euglena gracilis algae through a sustainable indoor fermentation process to reduce waste and prevent harm to marine ecosystems.
Elderberry fruit juice concentrate. This ingredient contains antioxidants that combat free radicals and support immune health.*
Natural flavor from elderflower. This low-calorie plant is packed with antioxidants. It's particularly rich in flavonoids, which have been shown to have a positive effect on immune health.*
Lime essential oil. This bright and zesty oil contains d-limonene, which is known for its antioxidant properties and refreshing flavor.*
What makes Immugummies unique?
Our Immugummies supplement is formulated with algal beta-glucans clinically studied to support immune health.* And unlike other gummy supplements that use only elderberry, ours contains both the berries and flowers of the elder tree. Another stand-out feature is the quality of the ingredients. Our gummies are made exclusively with clean, good-for-you ingredients that are:
Sustainably produced
Free from added sugars, artificial colors, and artificial flavors
Safe for your little ones
Gluten-free and allergen-free
Non-GMO
Vegan
Shown to build your immunity, naturally*
Another reason you'll love our Immugummies supplement? It comes in a convenient, lightweight pouch that's easy to take. Each pouch contains 60 delicious gummies—enough for a month of immune support!
How and when should you take Immugummies?
For optimal immune support, we recommend taking two gummies per day—with or without food.
Now, when to take them? That's entirely up to you! Some folks like to pop a gummy first thing in the morning, while others save them for an afternoon snack. The good news is that our gummies taste so darn delicious that you'll look forward to taking them whenever it's most convenient for you.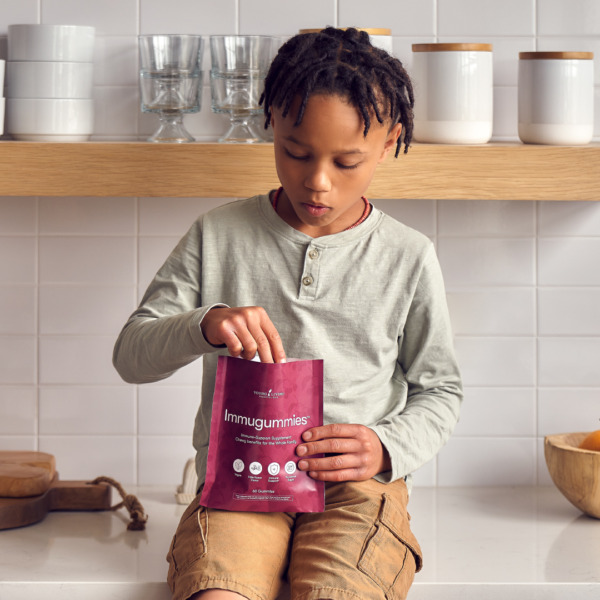 If you're looking for a great-tasting way to support your family's immune system, give the Young Living® Immugummies supplement a try. With a unique blend of elderflower, elderberry, pure algal beta-glucans, and Lime essential oil, these gummies provide essential nutrients to keep your immune system functioning at its best.* And since they're vegan friendly and have no added sugars, they're a guilt-free treat for the whole family. Let these yummy gummies fight for your family!
Hungry for more information? Check out this blog post to learn about the connection between proper nutrition and immune health.
Have a question about our Immugummies supplement? We're here to help, so ask away in the comments!
*These statements have not been evaluated by the Food and Drug Administration. This product is not intended to diagnose, treat, cure, or prevent any disease.