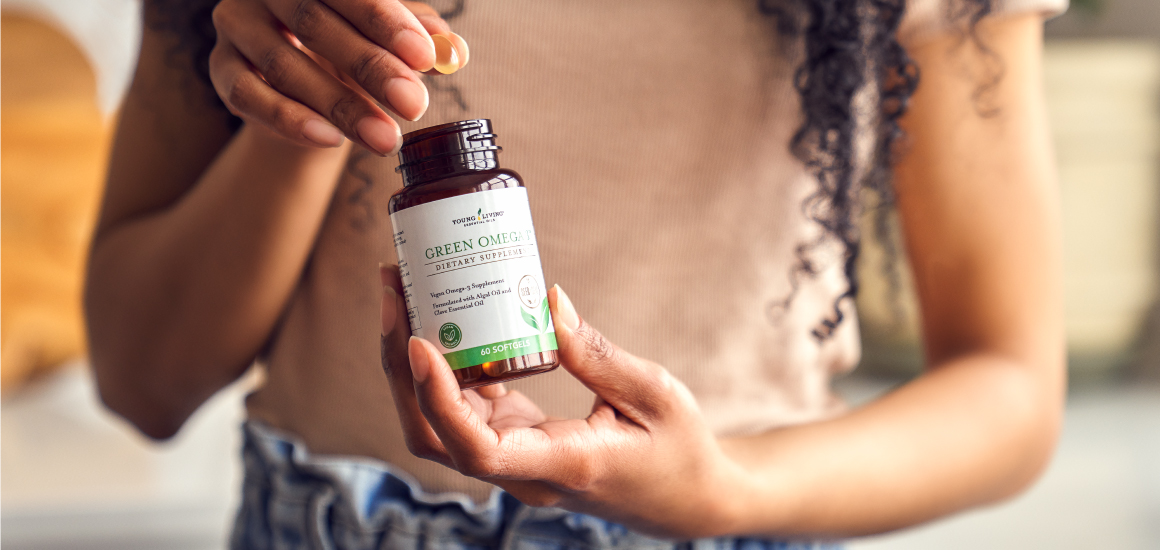 Not all omegas are created equal: Introducing Green Omega 3™ softgels
Are you ready to dive into the world of omega-3s? If you're like 95 percent of Americans surveyed, you're not getting enough of these essential fatty acids.   
But don't worry; we've got you covered with Young Living's newest supplement, Green Omega 3™ softgels!  
Let's back up. Why do you need omega-3s?
Omega-3 fatty acids are healthy fats that keep your body functioning as it should. They support anti-inflammatory processes, brain function, circulation, and other super-important things.*  
Since your body can't produce essential fatty acids on its own, consuming a diet rich in omega-3 is vital. Fish and certain nuts and seeds, such as flaxseeds and walnuts, are all rich sources of omega-3s. But what if you're a vegetarian, have a nut allergy, or need an easier way to get these essential nutrients? That's where our Green Omega 3 supplement saves the day.
What is Green Omega 3, and why is it so awesome?
Green Omega 3 softgels are the superhero of supplements, delivering a powerful punch of omega-3s straight from the pure plant source. With a blend of algal oil, flaxseed oil, and Clove essential oil, each two-softgel serving provides all these benefits—without the fishy aftertaste of fish oil supplements:
Supports heart and circulatory health*
Supports normal, healthy brain function*
Promotes normal eye, skin, and joint health*
Contains 330 mg of DHA and 160 mg EPA (most health organizations recommend 250–500 mg of combined DHA and EPA).
And did we mention they're vegan-friendly and sustainably sourced? That's right—you can feel good about your health and the planet at the same time.
Let's dive into each of the star ingredients below.
Algal oil: The marine microalgae powerhouse
Algal oil is a plant-based source of two omega-3 fatty acids, DHA (docosahexaenoic acid) and EPA (eicosapentaenoic acid). It comes from marine microalgae—the same plants that fish get their omega-3s. Algae are easy to grow and don't require wild fisheries, making algal oil one of the most sustainable ways to supplement your nutritional needs.
Flaxseed oil: The essential fatty acid sidekick
Flaxseed oil is rich in ALA, an essential fatty acid obtained from plants. ALA, along with EPA and DHA, is one of the three most important omega-3 fatty acids. It also serves as a precursor to EPA and DHA.
Clove essential oil: The antioxidant ally
Clove essential oil is known for its warm, spicy scent and flavor. It's also a powerful antioxidant.*
What are you waiting for? Try Green Omega 3 today!
Our algae-derived omega-3 supplement isn't just for vegetarians who want a plant-based source of omega-3s. It's for anyone looking for a more-sustainable choice. With Green Omega 3 softgels, you can get the essential fatty acids you need without any fishy aftertaste or harm to marine ecosystems. So go ahead and stand for health, wellness, and the planet. Try Green Omega 3 softgels today—it's the easiest choice you'll ever make.
The post Not all omegas are created equal: Introducing Green Omega 3™ softgels appeared first on Young Living Blog.