3 refreshing mocktails to sip on this summer
Is it even summer if you don't have an ice-cold drink in your hand? We think not. Those sweltering, hot days call for a tall glass of something fresh, cool, and flavorful. Whatever your tastes, we've got you covered with this list of DIY summer mocktails the whole family can enjoy.
Cucumber Lemon Cooler
Looking for a drink that pairs well with your summer salads and grilling go-tos? Enter the cucumber lemon cooler. Refreshing and fizzy, it's the crisp complement to any BBQ meal. Since the flavor is nice and light, use ice cubes instead of crushed ice to avoid diluting your drink too quickly. (Cubed ice will take longer to melt in the hot sun.)
Ingredients
½ cucumber
2–3 drops

 

Lemon Vitality™
1 lemon, juiced
1 tablespoon honey
4 ounces club soda or sparkling water
Mint leaves for garnish, if desired
Instructions
Chop cucumber into small pieces and mix with Lemon Vitality, lemon juice, and honey in a bowl. Let sit for 10 minutes to allow the flavors to infuse.
Place cucumber mixture in the bottom of a mason jar and pour club soda on top. Add ice and mix well.
Add mint for garnish.
Blue Mule Mocktail
A summery take on the popular Moscow mule, this fun and fruity DIY mocktail gets its name from its ocean-blue hue. Whether you're chilling at the pool or lounging by the AC unit, our blue mule mocktail makes every day feel like a tropical vacation. Oh, and did we mention it's pretty enough to post on Instagram?
YL tip: If you like our blue mule mocktail, try our alcohol-free NingXia rosemary mule next.
Instructions
Mix blueberries with honey in a bowl.
Pour blueberry-honey mixture into a copper mug or glass.
Add fresh lime juice and Lime Vitality.
Fill to the top with Zyng.
Garnish with more blueberries, sprig of thyme, and a slice of lime if desired.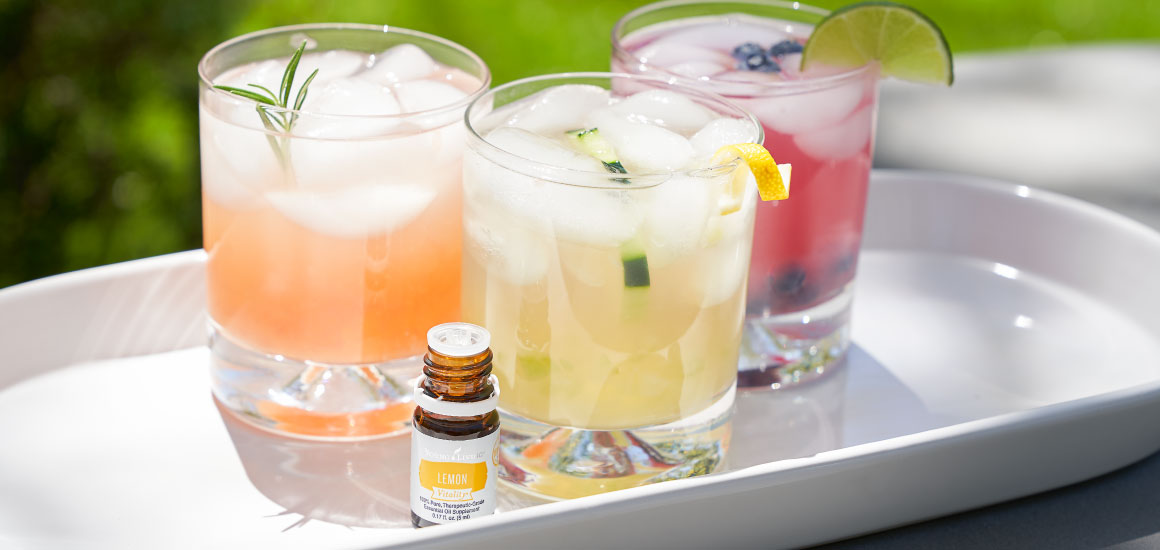 Rosemary Grapefruit Refresher
Sweet citrus brings out rosemary's lemony notes in this light summer drink. Elegant and sophisticated, our rosemary grapefruit refresher is a must-have for intimate grill-side gatherings and small summer soirees. To make it, you'll start with a rosemary simple syrup that's as delicious as it is, well, simple.
Instructions:
To make the simple syrup:
Add water, rosemary leaves, and sugar or honey to a pot. Bring to a boil, stirring until sugar or honey dissolves.
Simmer for 1 minute.
Remove from heat and let the syrup steep, about 30 minutes.
Strain the rosemary leaves out.
Store in a sterilized glass jar in the fridge for up to 2 weeks.
To make the rosemary grapefruit refresher:
Add 1 tablespoon of rosemary simple syrup, grapefruit juice, and Grapefruit Vitality to a shaker. Top with ice. Shake well to combine.

Fill a glass with ice. Pour mixture in and fill to the top with Zyng.

Garnish with rosemary sprig.