Nutrition on the go: Pure Protein Complete smoothie recipes
The importance of protein is no secret, but it can be hard to get enough every day, which may leave you feeling hungry even after a full meal. Read on to learn how protein powders and other supplements can take the guesswork out of your protein needs!
Why should you add protein to your smoothie?
We've all been there: You load up your blender with fruits and veggies, only to find yourself feeling hungry 30 minutes later. Fruits and vegetables are fantastic, but without some extra nutrients, they can leave your body wanting more. That's where protein comes in! Adding protein to your smoothie can help keep you fuller longer and won't have you reaching for more snacks so soon.
Protein is also an essential building block for muscles and can reduce muscle loss, build lean muscle, and help you recover quicker after injury or exercise, so protein is an absolute must if you're hitting the gym.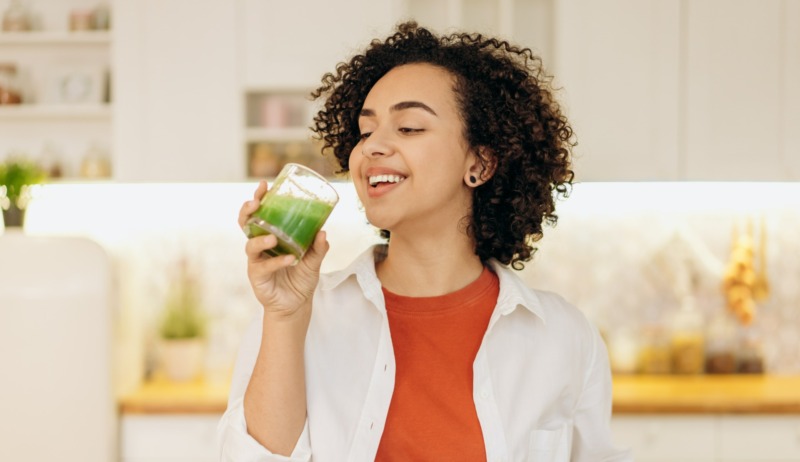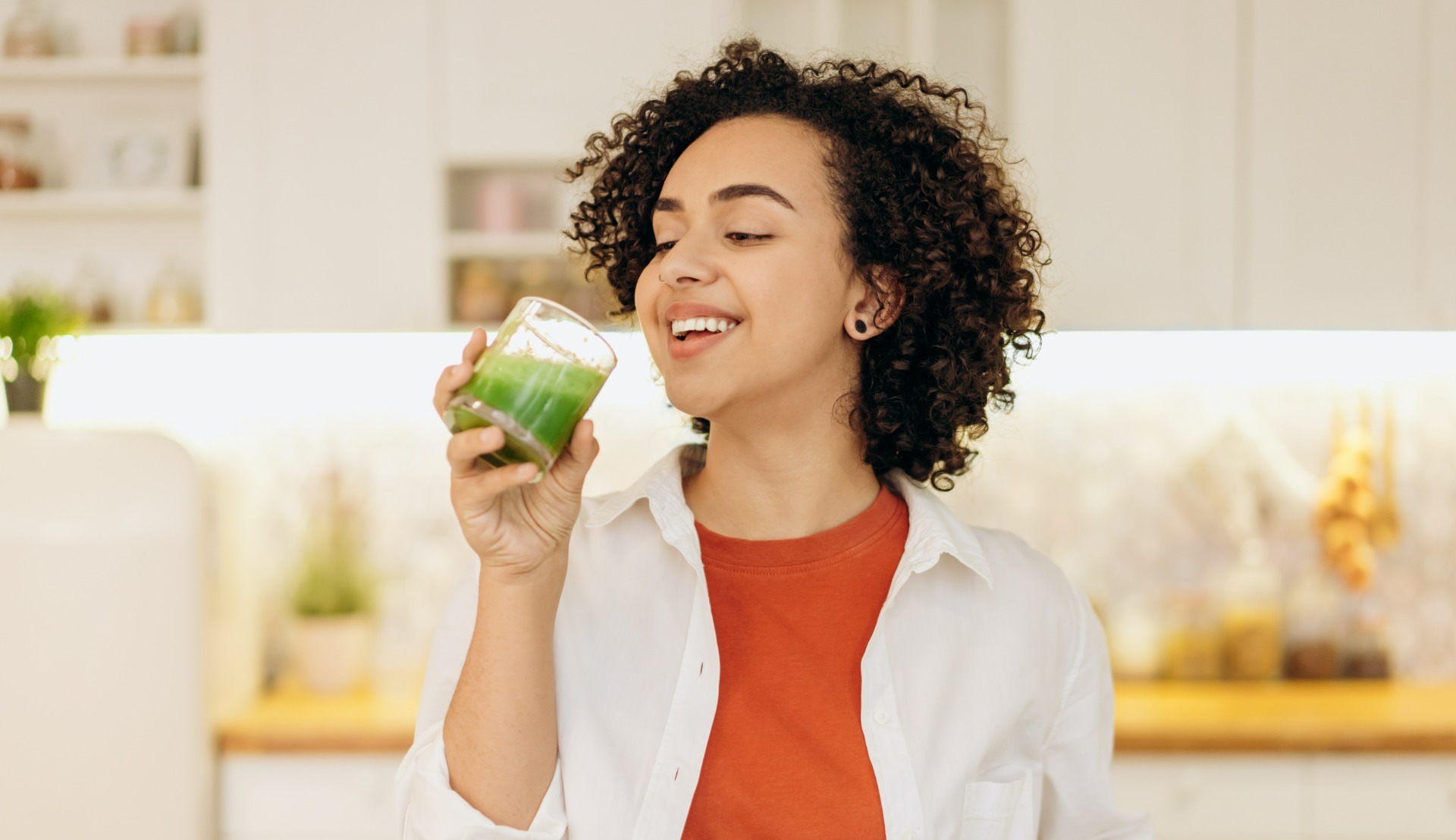 Sources of protein for your smoothie 
Protein powder
Protein powder is a quick, easy way to add extra protein to any smoothie. Many proteins powders use whey as their source of protein, so be sure to check labels if you have any allergies or sensitives.
Pure Protein Complete: Young Living offers two delicious protein flavors: Vanilla Spice Pure Protein Complete™ and Chocolate Deluxe Pure Protein Complete™. Each of these blends offers 25 grams of protein per serving that comes from a blend of cow and goat whey, peas, egg whites, and organic hemp seeds. They also contain a full range of branched-chain amino acids. Additionally, Pure Protein Complete features B vitamins, premium essential oils, and a proprietary enzyme complex with probiotics. These ingredients work together to support ATP production and metabolism, help build lean muscle mass, and support post-workout muscle recovery.*
While our proteins are delicious on their own when mixed with cold water or plant-based milk, they can be elevated and create a complete meal or snack with the recipes below!
YL tip: These protein smoothie blends aren't just for pre-/post-workout consumption! They can be taken any time you need to pack in the protein or just want to fill up with a sweet, healthy snack.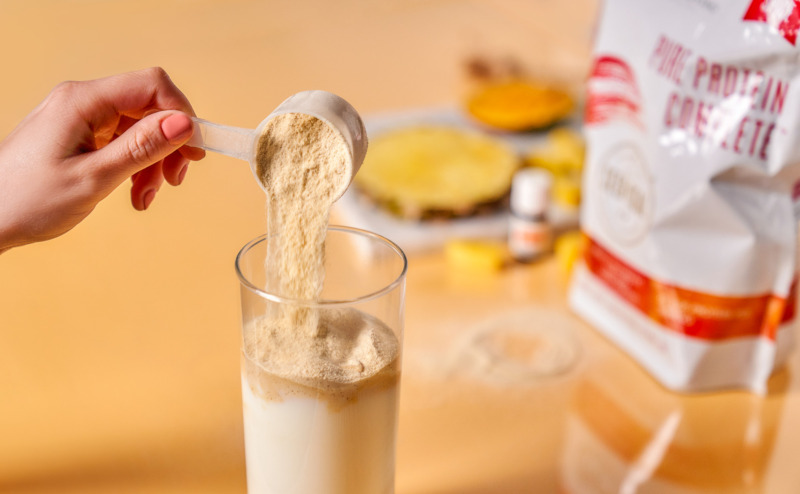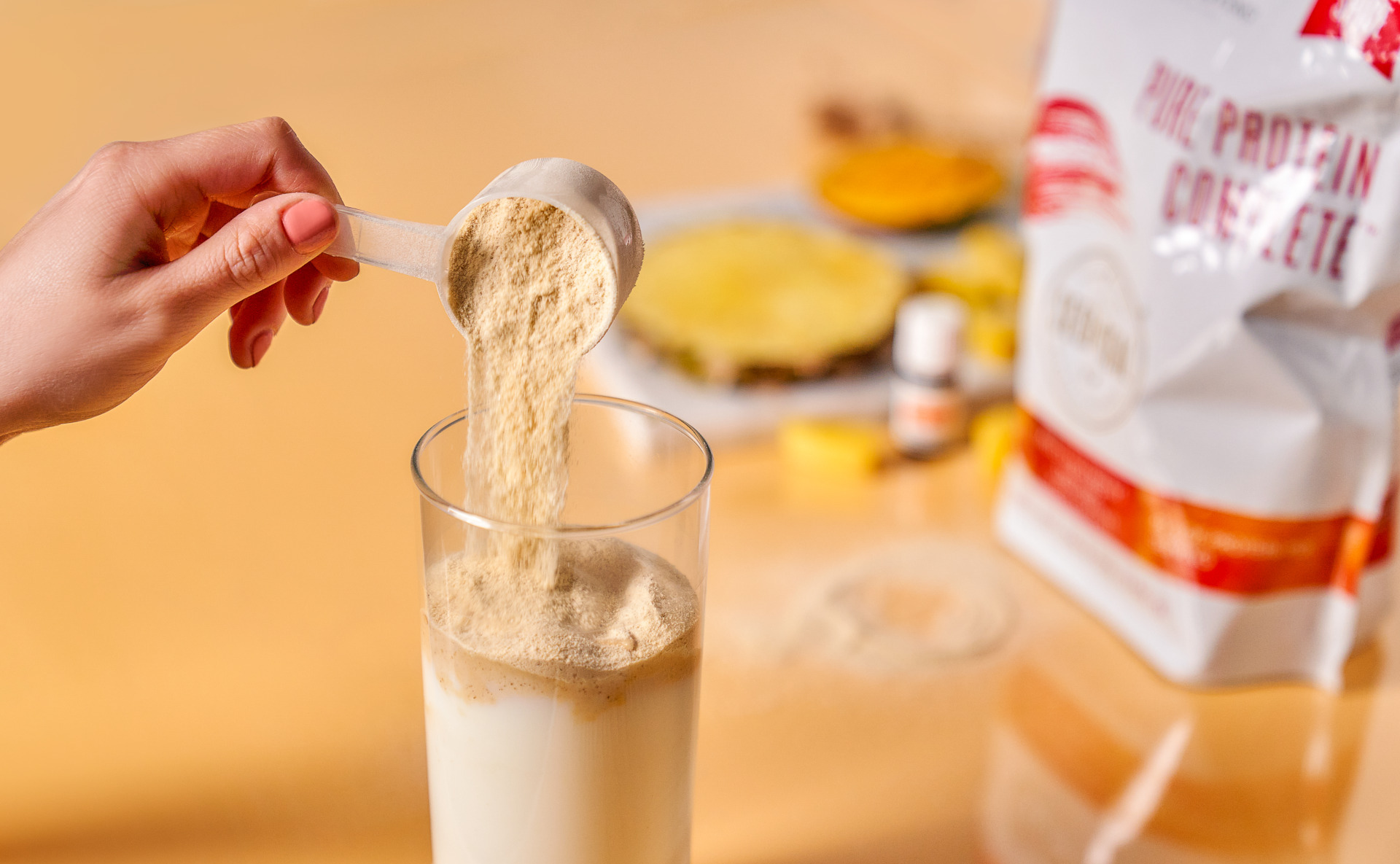 Other sources of protein 
Powders are great, but they're not the only way to supplement your protein!
Nuts and nut butter add both protein and fat to round out your smoothies.
Greek yogurt and cottage cheese are high-concentration sources of natural protein.
Dairy and plant-based milks like coconut milk can also add extra protein to your smoothie. Use them as a base instead of water or juice.
YL tip: Adjust the sweetness and thickness of these smoothie recipes to your personal preference. If you prefer a thinner consistency, add more milk or decrease the amount of frozen fruit or ice. For a thicker consistency, add less milk or increase the amount of frozen fruit or ice.
If you're not sure where to start, check out these easy recipe ideas for an extra boost of protein!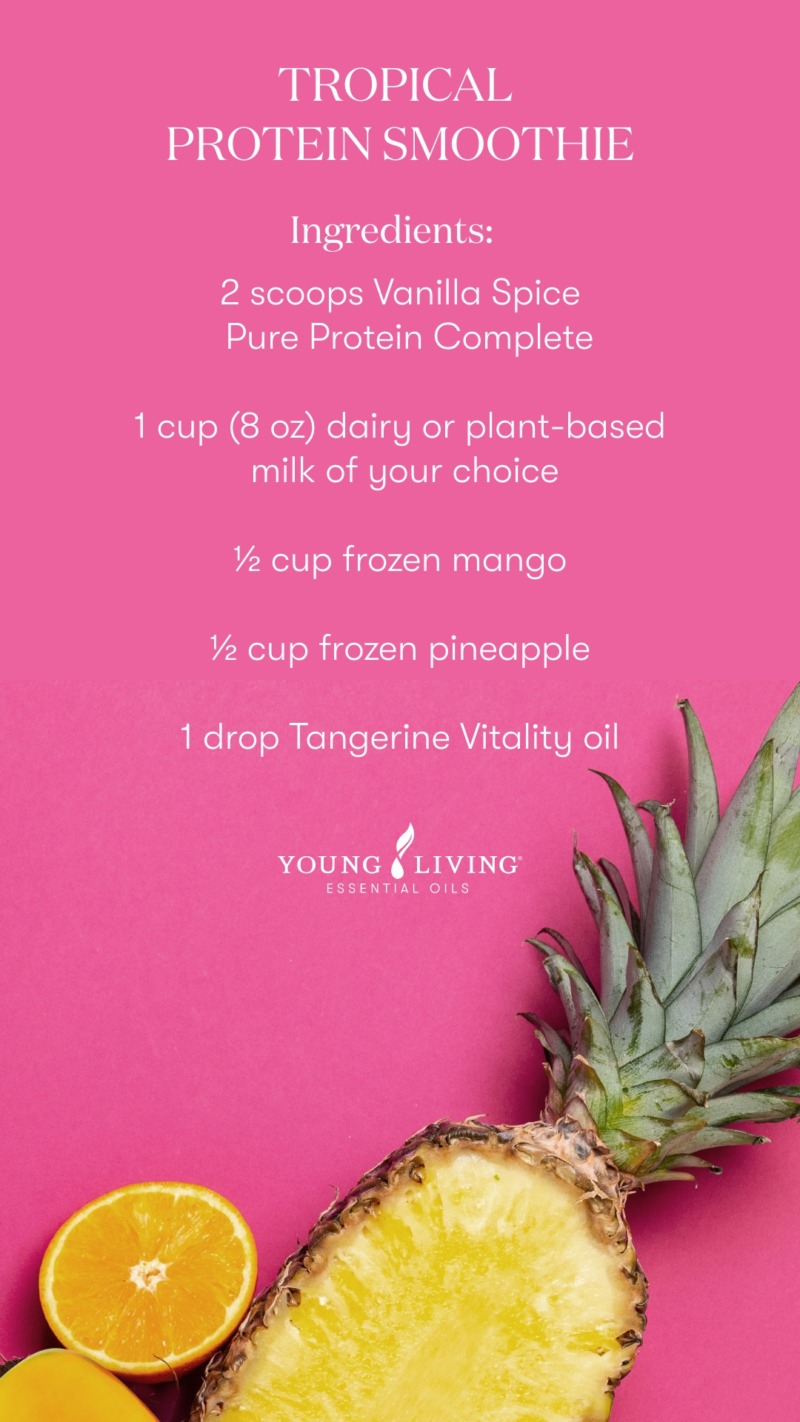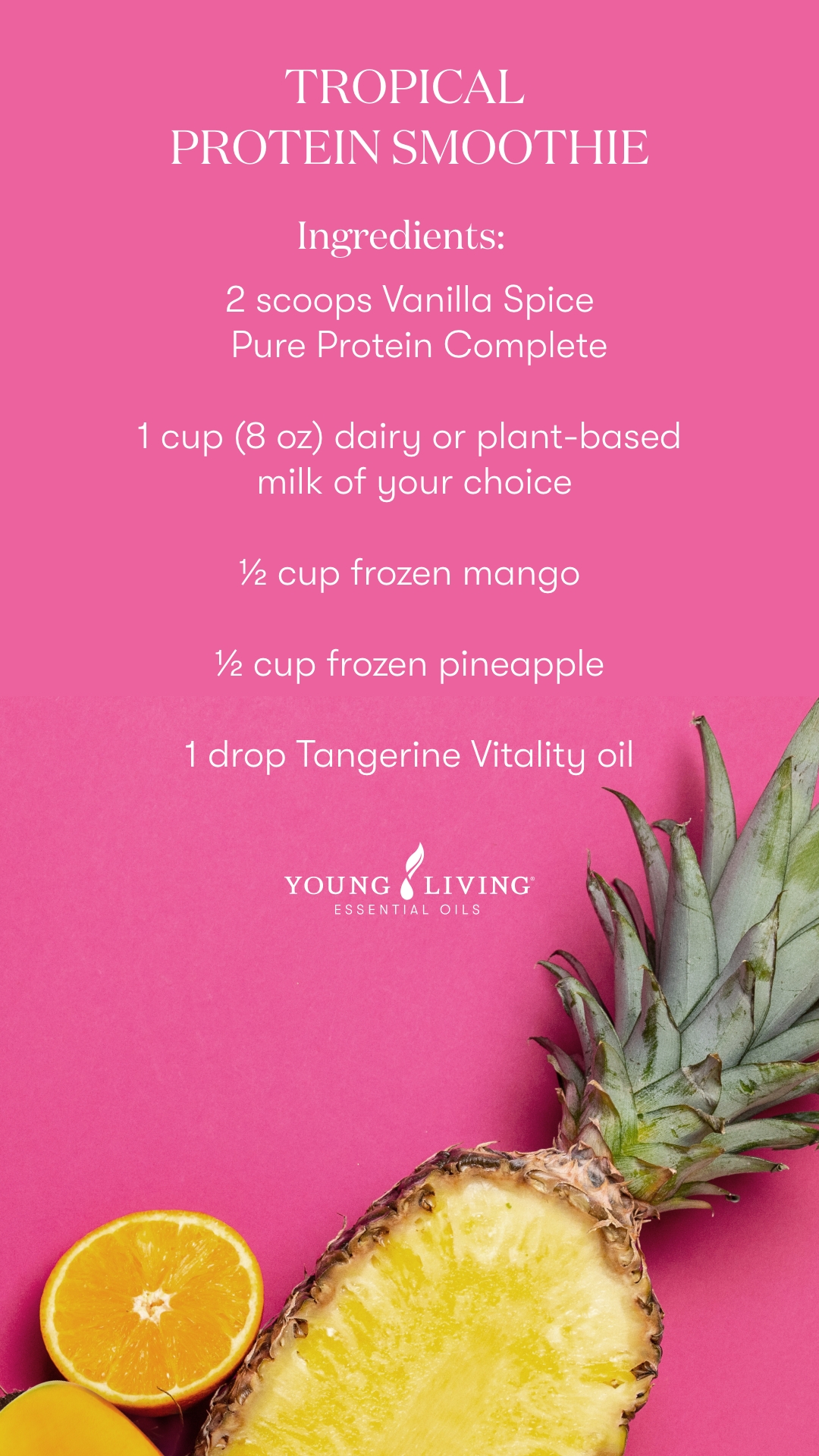 Tropical Protein smoothie
Transport yourself to a tropical paradise with this blend of smooth vanilla protein, exotic mango, and pineapple paired with sweet, citrus Tangerine Vitality™.
Ingredients:
2 scoops Vanilla Spice Pure Protein Complete
1 cup (8 ounces) dairy or plant-based milk of your choice
½ cup frozen mango
½ cup frozen pineapple
1 drop Tangerine Vitality essential oil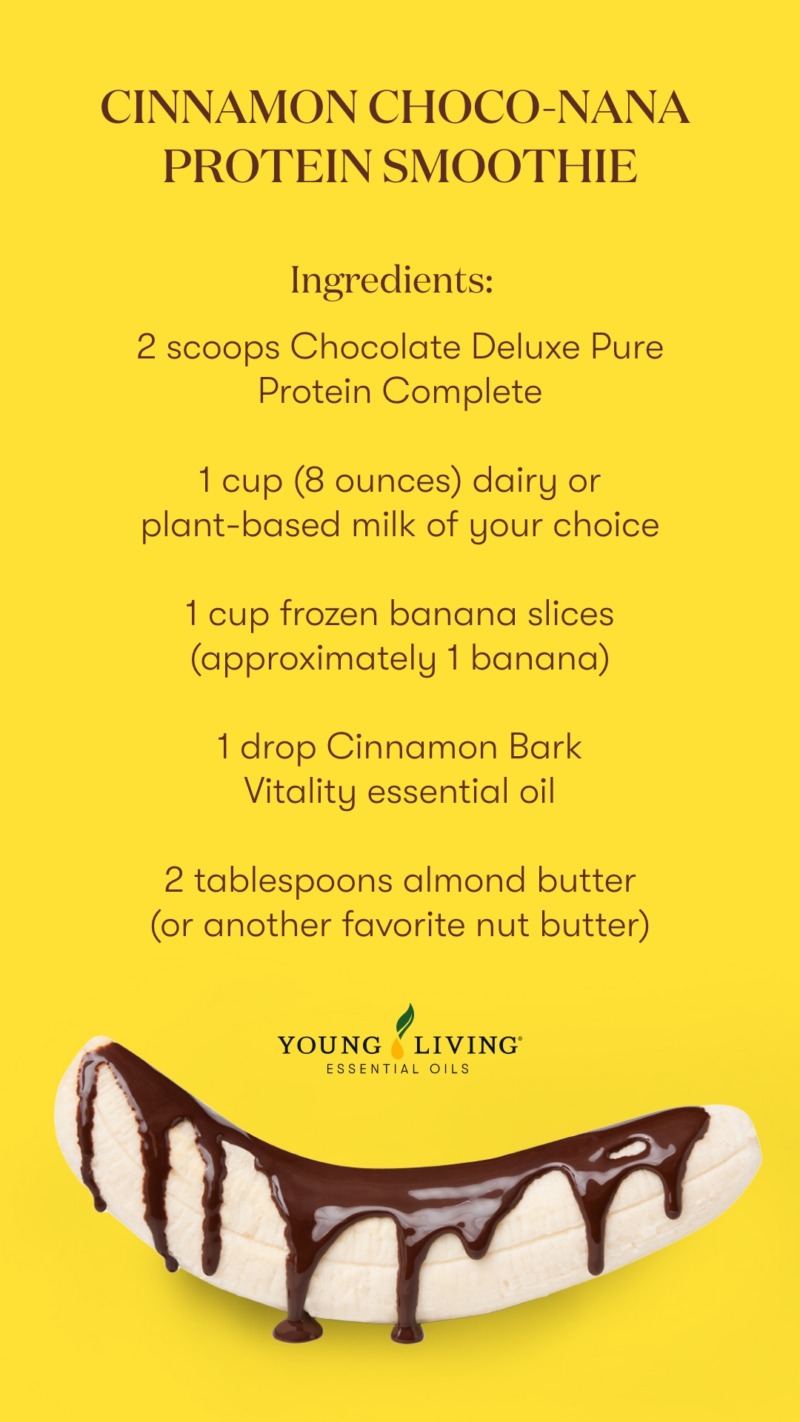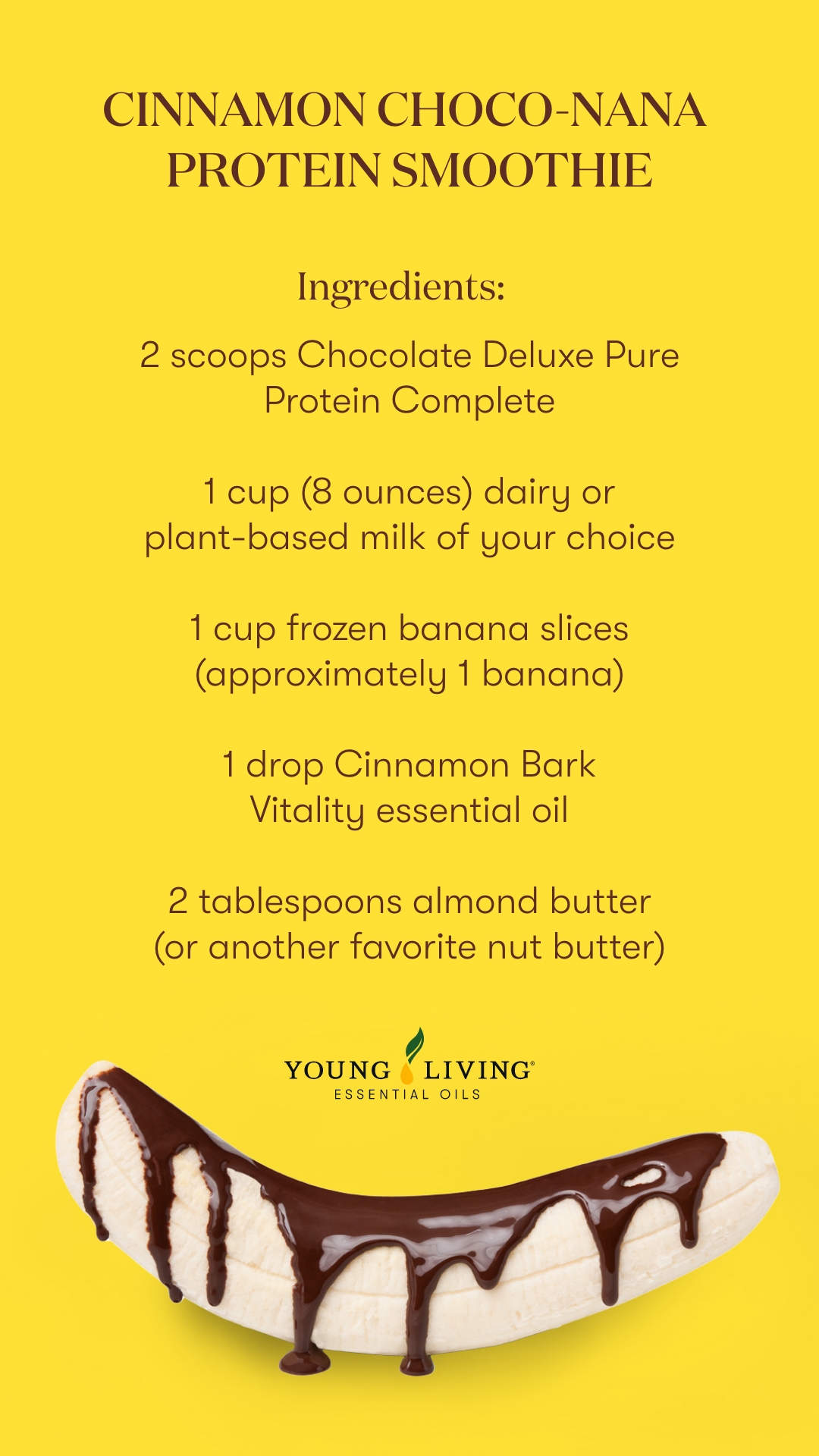 Cinnamon Choco-Nana protein smoothie
Go bananas for this delectable blend of chocolate protein, sweet banana, creamy almond butter, and spicy Cinnamon Bark Vitality™.
Ingredients:
2 scoops Chocolate Deluxe Pure Protein Complete
1 cup (8 ounces) dairy or plant-based milk of your choice
1 cup frozen banana slices (approximately 1 banana)
1 drop Cinnamon Bark Vitality essential oil
2 tablespoons almond butter (or another favorite nut butter)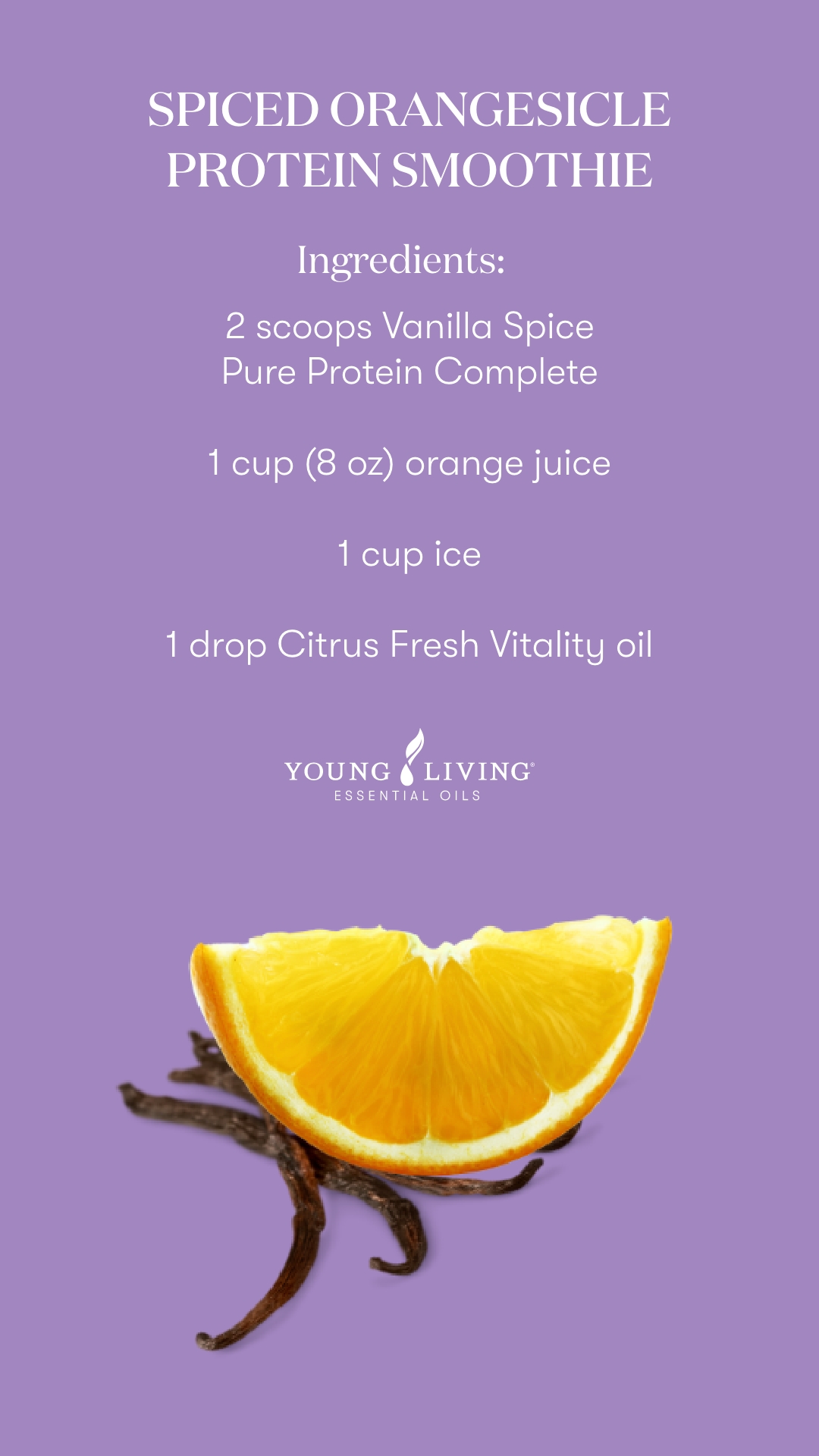 Spiced Orangesicle protein smoothie
This sweet, creamy blend of vanilla protein, orange juice, and Citrus Fresh™ Vitality™ is almost too good to be true!
Ingredients:
2 scoops Vanilla Spice Pure Protein Complete
1 cup (8 ounces) orange juice
1 cup ice
1 drop Citrus Fresh Vitality essential oil blend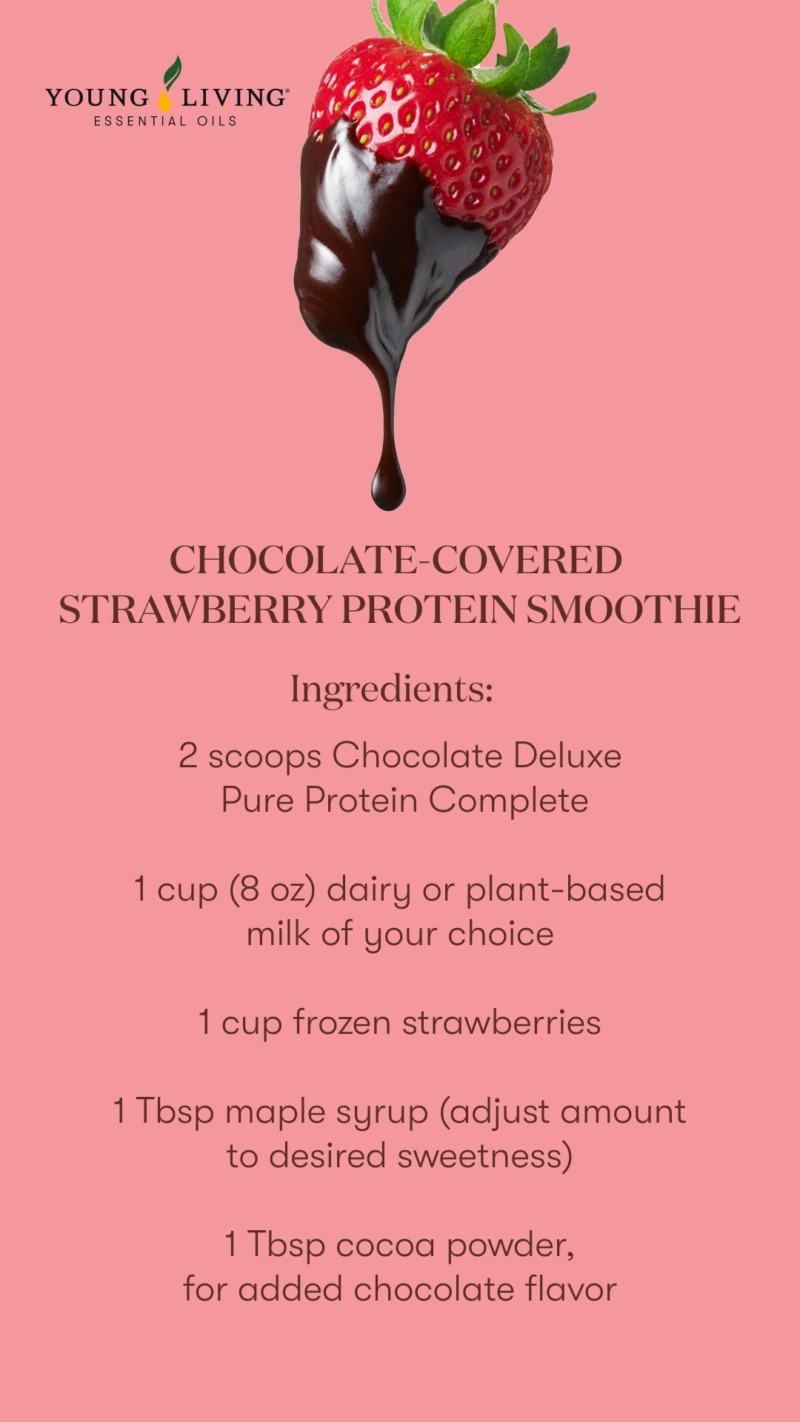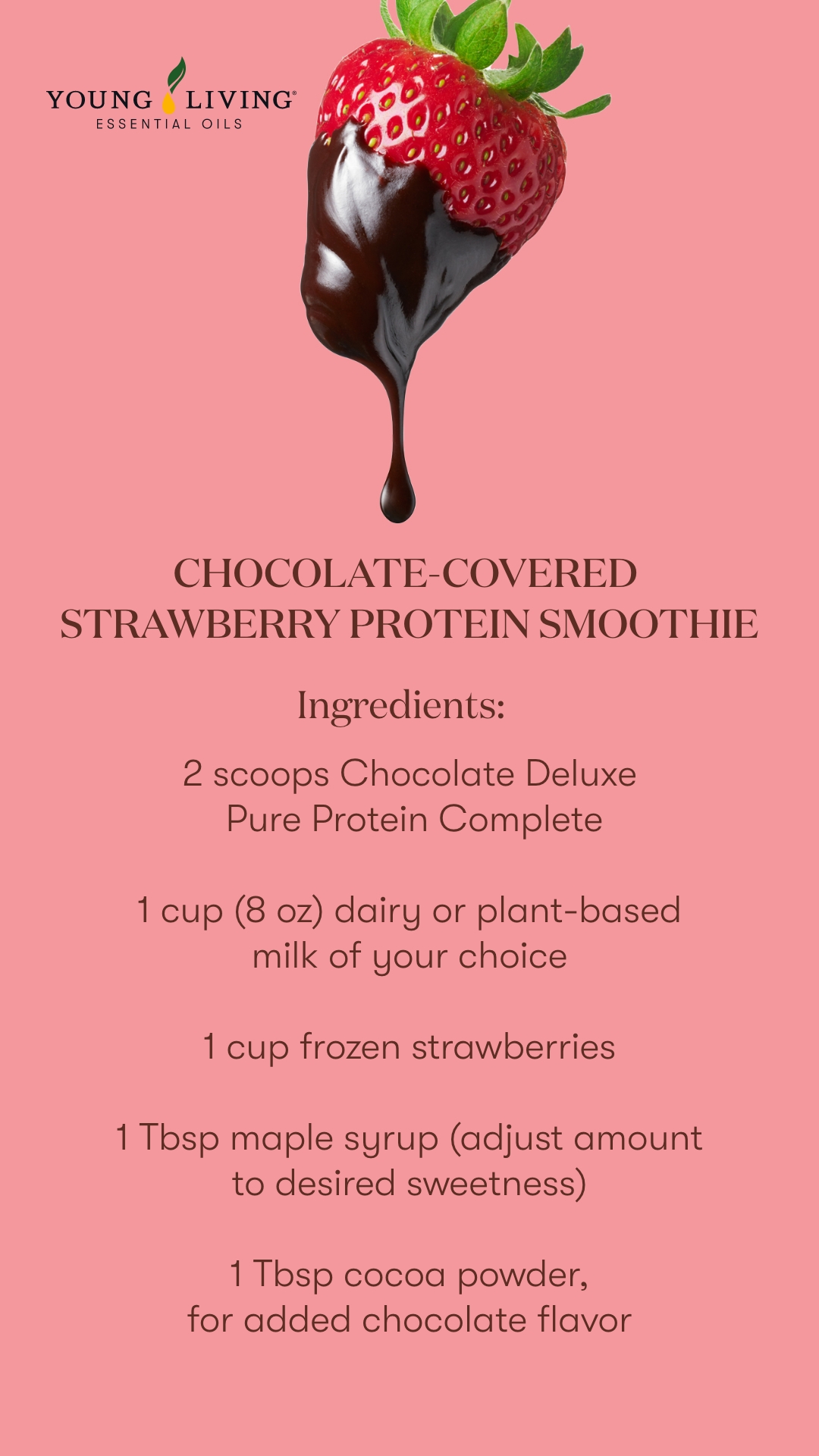 YL tip: Love chocolate-covered raspberries or cherries instead? Swap out strawberries for any other frozen berry for a delectable treat!
Chocolate-Covered Strawberry protein smoothie
Who doesn't love chocolate-covered strawberries? Replicate this special-occasion treat in a healthy, delicious smoothie. Our chocolate protein powder, paired with frozen strawberries, maple syrup, and a bit of extra cocoa for added richness, creates a rich, indulgent treat that'll have you feeling extra ready to take on your workout.
Ingredients:
2 scoops Chocolate Deluxe Pure Protein Complete
1 cup (8 ounces) dairy or plant-based milk of your choice
1 cup frozen strawberries
1 tablespoon maple syrup (adjust amount to desired sweetness)
1 tablespoon cocoa powder, for added chocolate flavor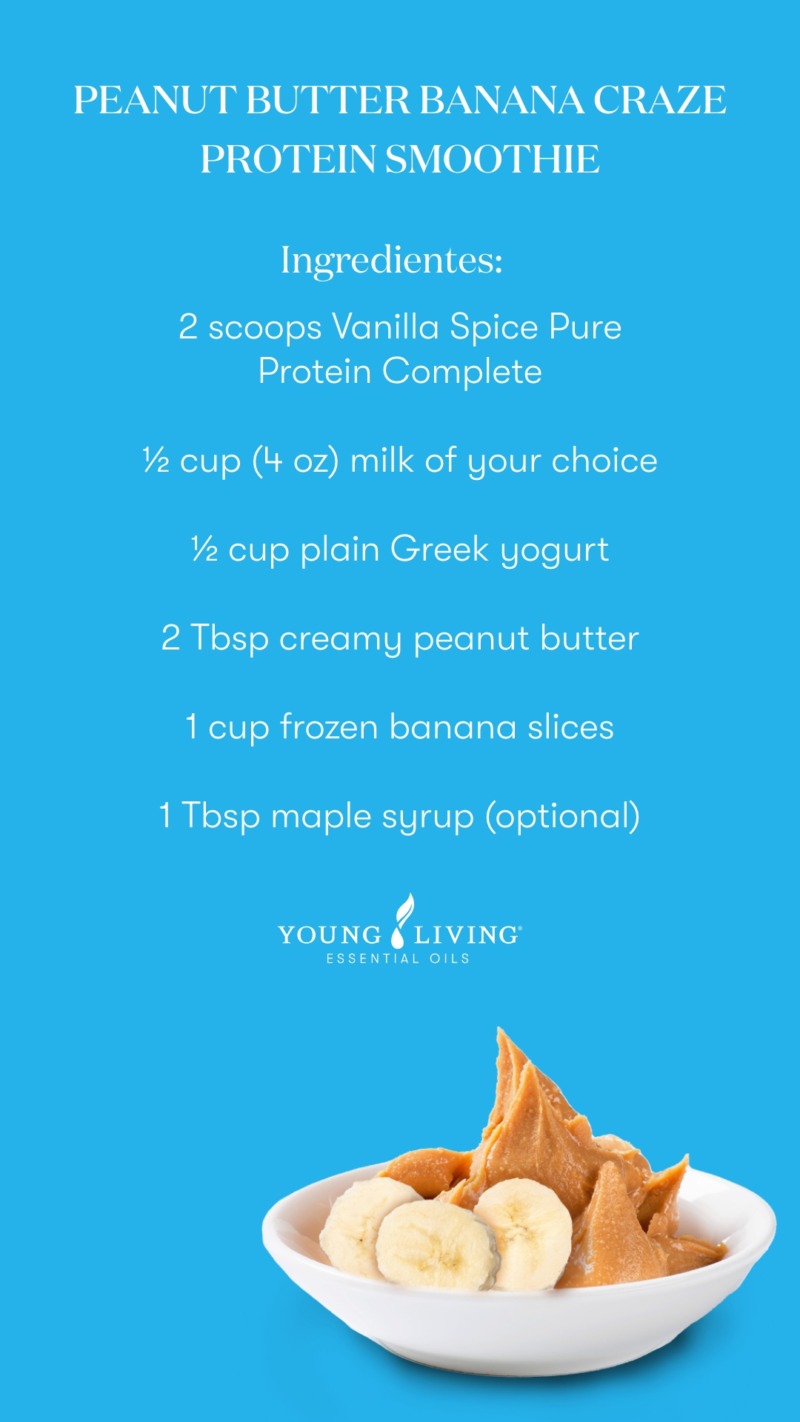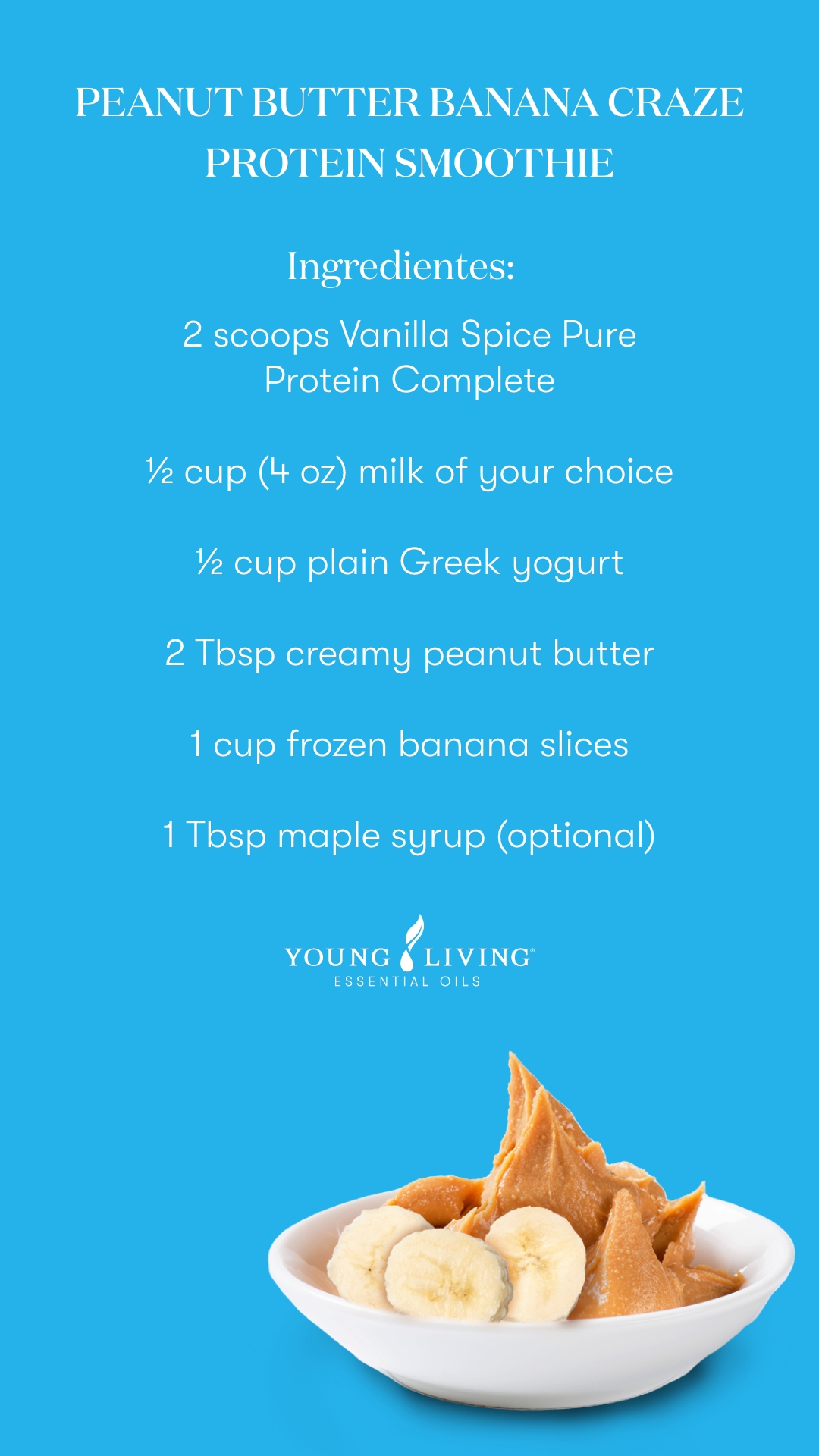 Peanut Butter Banana Craze protein smoothie
Go wild with this classic peanut butter-banana blend. It's sweet, creamy, and slightly tangy—you'll finish your glass still wanting more.
Ingredients:
2 scoops Vanilla Spice Pure Protein Complete
½ cup (4 ounces) milk of your choice
½ cup plain Greek yogurt
2 tablespoons creamy peanut butter
1 cup frozen banana slices
1 tablespoon maple syrup (optional)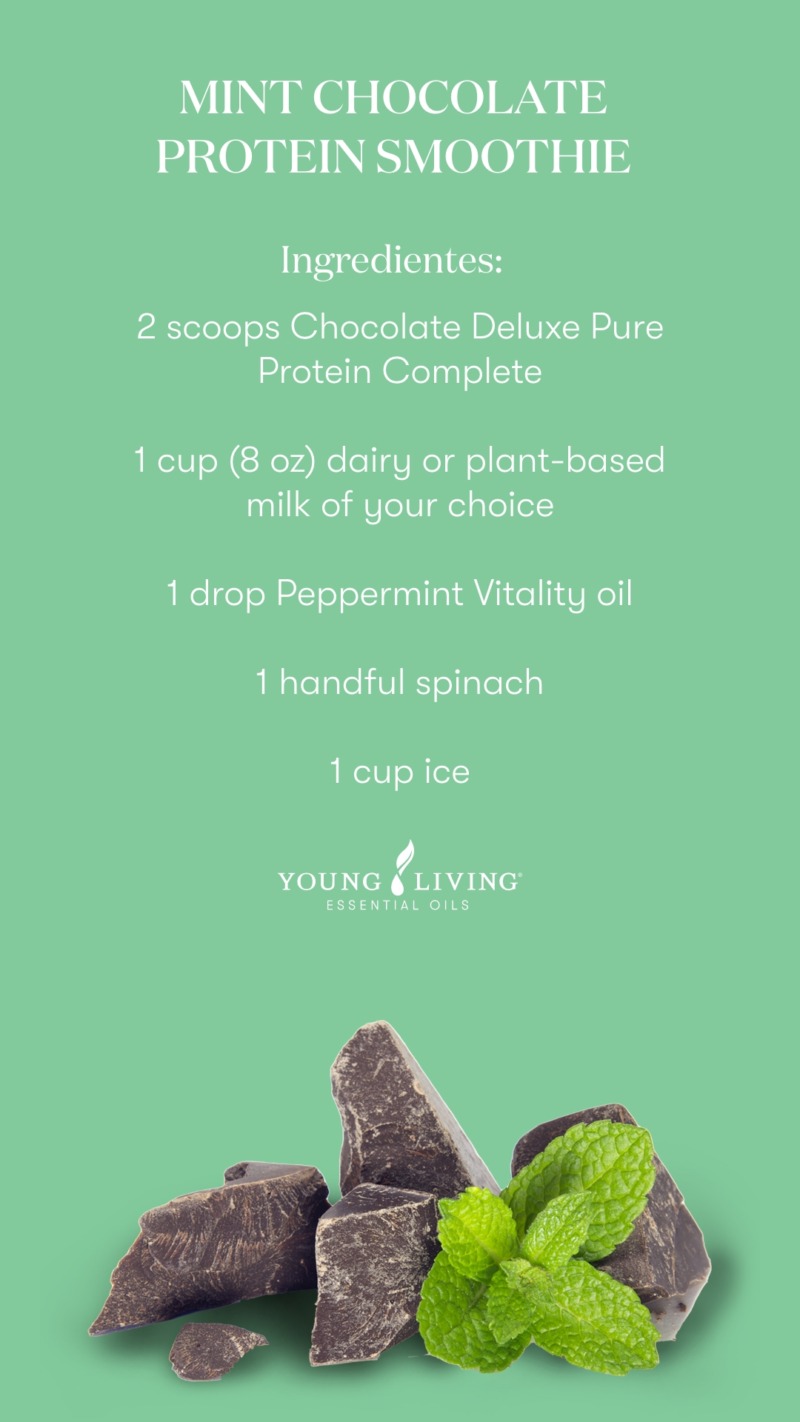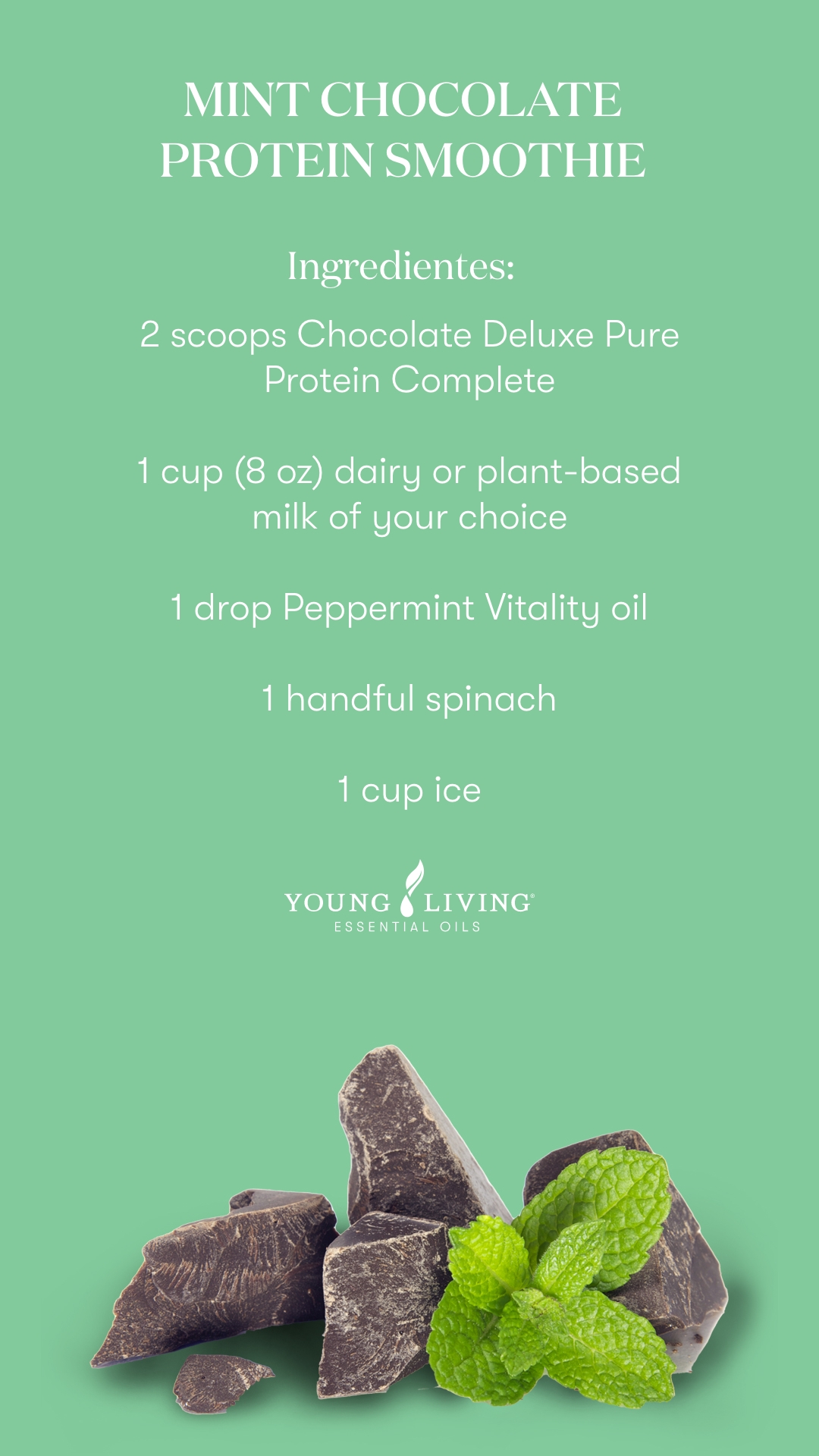 YL tip: Want to add even more healthy treats to your smoothie? Need to sneak some vegetables into your kids' diet? Add a handful or two of fresh spinach to any smoothie recipe for an extra serving of vegetables. Spinach packs a powerful health punch without doing much to change flavor, so it's a great choice for picky eaters!
Mint Chocolate protein smoothie
Using rich chocolate protein, refreshing Peppermint Vitality™, and a handful of spinach, this drink tastes like a classic mint-chocolate shake but packs a punch with healthy, nourishing ingredients.
Ingredients:
2 scoops Chocolate Deluxe Pure Protein Complete
1 cup (8 ounces) dairy or plant-based milk of your choice
1 drop Peppermint Vitality essential oil
1 handful spinach
1 cup ice