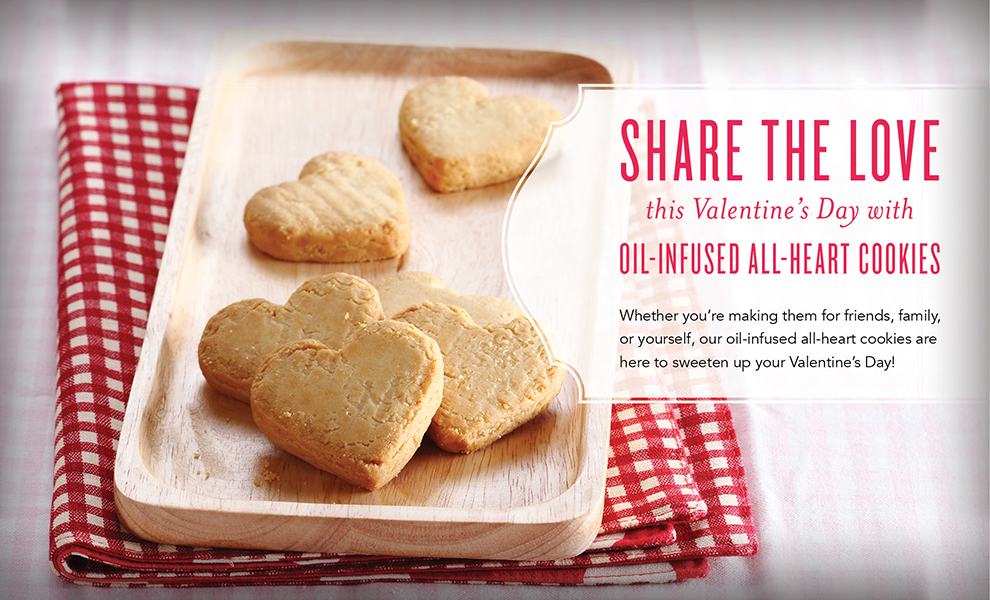 Share the Love this Valentine's Day with Oil-Infused All-Heart Cookies
Valentine's Day is loved for many reasons, but we think it's the perfect opportunity to share your love of essential oils! And what better way to share than with the gift of baked goodies?
If you're looking for the perfect way to show someone you care, introduce someone to your love of essential oils, or simply make yourself a delicious Valentine's Day treat, our oil-infused heart-shaped cookies are sure to fit the bill. 
Oil-Infused All-Heart Cookies
Prep Time:  1 hour, 25 minutes
Total Time:  1 hour, 25 minutes
Ingredients
1 cup butter, softened
1 1/2 cups organic evaporated cane juice crystals
3 eggs
1–3 drops Orange Vitality, Lime Vitality, Grapefruit Vitality, or other citrus Vitality essential oils. For more spicy cookies, try Ginger Vitality or Cinnamon Bark Vitality for a delicious twist.
3 cups sifted Einkorn Flour
3 teaspoons baking powder
1 tablespoon milk of your choice
2 teaspoons vanilla extract
1 heart-shaped cookie cutter
Instructions
Cream the butter and cane juice crystals together until light and fluffy.
Blend in eggs and essential oil. Beat well.
Sift together the Einkorn Flour and baking powder. Add to the creamed mixture.
Add the milk and vanilla. Mix well.
Cover and chill for 1–2 hours.
Grease baking sheet and preheat oven to 400º Fahrenheit.
Roll dough 1/4-inch thick and cut with heart-shaped cookie cutter dipped in flour.
Place on greased baking sheet and bake for 6–8 minutes.
When you give your cookies and note, it'll be the perfect time to share your delicious secret ingredients—Young Living Vitality dietary essential oils! No matter who you're sharing these delicious treats with, we hope you enjoy making these cookies with those you love.

—Marinda Wilson, International Brand Portfolio Manager, Nutrition