Lavender Essential Oil
Lavender oil is the most universal oil and has a tranquil aroma that is soothing to the senses, as well as to the skin when applied topically. Taken internally, it contains antioxidants and may provide immune support,  It is one of the most popular and widely used essential oils that Young Living produces.
Derived from the Latin word "lavare," which means "to wash," Lavender oil has been used extensively for thousands of years as a fragrant addition to baths and laundry and as a culinary and medicinal herb. Native to the Mediterranean, lavender is a member of the mint family and has a soothing floral aroma that is often added to perfumes, massage oils, and facial care products. Considered the panacea of aromatherapy, Lavender essential oil has endless uses. In addition to its tranquil aroma, Lavender provides many skin care benefits when applied topically. Lavender Vitality™ essential oil contains cleansing and antioxidant properties and adds a mellow floral flavor to your evening tea.* Lavender and Lavender Vitality are the same essential oil.
Product Profile
Has a sweet, floral aroma
May help cleanse and soothe minor skin irritations when applied topically
Creates a tranquil environment when diffused or applied topically
May help ease occasional nervous tension and improve sleep quality for occasional sleeplessness*
Contains cleansing and antioxidant properties*
Supports general wellness*
Suggestions from Young Living
Topical:

 

Apply 2–4 drops directly to desired area. Dilution not required, except for the most sensitive skin. Use as needed.
Aromatic:

 

Diffuse up to 1 hour 3 times daily.
Apply Lavender topically following sun exposure or add it to your facial essence, serum, or moisturizer.
Diffuse it with Cedarwood and Orange to create a peaceful space at bedtime.
Add 4 drops of Lavender and 1 cup of Epsom salt to a bath to create a relaxing environment.
Use it as a spot treatment for minor bumps and blemishes.
Unwind in the evening with a calming Lavender-infused neck or back massage.
Place a few drops in your water in the evening to help improve sleep quality for occasional sleeplessness.*
Add 2 drops to a vegetarian capsule to take advantage of Lavender Vitality's cleansing and antioxidant properties.*
Diffusing Notes
These are approximate drops.  Adjust recipes to your needs.  If a recipe is too strong for you, add fewer drops.  Do you need more?  Just add more, but no more than 8-12 drops for all of our diffusers with the exception of the Aria diffuser which requires 15-25 drops.
Tip:  When you first begin diffusing, start with less essential oil than listed in the recipes and build to more as desired.  You should give your body time to adjust to the essential oils.  Almost all the Young Living diffusers are ultrasonic which provides a cool-mist humidifier along with the essential oils.  These diffusers are safe to run all day.  Pay attention to the size of the room because the size will impact the intensity of diffusing.  Nebulizers and atomizers are different than ultrasonic diffusers because they do not use water.  For these, note the time limit for diffusing stated on each individual oil bottle.
Ultrasonic Diffusers
Ultrasonic diffusers work by using vibrations to break down water and essential oils into tiny particles, creating a fine mist that is released into the air.  Inside the diffuser, there's a small disc that vibrates rapidly, usually at ultrasonic frequencies (beyond what humans can hear).  This vibration agitates the water and oil mixture, breaking it into micro-droplets that are then dispersed as a mist.  This mist carries the pleasant aroma of the essential oils and tiny water particles, helping to humidify the air and spread the fragrance throughout a room.  Ultrasonic diffusers are popular for their ease of use, quiet operation, and ability to provide both aromatherapy benefits and a visually appealing ambiance.
Cleaning Your Diffuser
Always turn off and unplug the diffuser prior to cleaning.
To ensure proper performance, clean the ultrasonic plate and lid after each use.
If essential oil begins to build up on the ultrasonic plate, gently wipe it off using a cotton swab dipped in rubbing alcohol.
If essential oil begins to build up on the lid, gently wipe it off using mild soap and water only.
Never use a corrosive detergent to clean the ultrasonic plate or damage will occur.
Periodically check under the diffuser to keep the fan intake free of debris.
Debris can be removed by blowing on the fan intake opening or wiping with a clean, dry cloth. (Do not use aerosol sprays, solvents, or abrasives to clean the plastic housing.)
When not in use, clean the diffuser and store dry. Replacement ultrasonic plates can be purchased from Young Living.
Aromatherapy
When odorant molecules attach to odorant receptors, your body responds by sending electrical impulses into your brain. This causes different physiological reactions depending on the aromas detected.
The sense of smell has a profound impact on your emotions and inner desires.  Those scents can set the mood or bring up memories before you are even aware of it.
Aromas impact your body and they can set the mood and atmosphere in any environment. 
The sense of smell is directly connected to the limbic lobe of your brain, also known as the emotional control center.  The limbic lobe plays a big role in your mood, memory, behavior, feelings, and emotions, and it is connected to the olfactory bulb in the nose.
How to Use Essential Oils
Aromatically, Topically, Internally & Safely
You just purchased a bundle, kit, or collection of essential oils.  Now you're overwhelmed by how to use them.  We've all been intimidated by how to use essential oils.  With a little practice and this simple guide, you'll be an expert in no time.
This video covers how to use essential oils:
• Aromatically
• Topically
• Internally
• Safely
How to Apply Essential Oils - Three Main Methods
Stumped on how to apply your essential oils? How you apply an oil depends on what benefit you want to get out of it. Different oils offer different benefits, depending on how and where you apply them.  So, before using any new essential oil, be sure to check that oil's uses and benefits and read any labels and instructions that come with it. If you have questions or concerns, check with your healthcare provider.
Using Essential Oils Aromatically
Let's start with the hallmark way to use essential oils: aromatically.  All essential oils feature a signature aroma you can smell and inhale for various effects.  One oil's crisp scent can invigorate you when you need a midday pick-me-up. Another's soothing aroma can help you unwind after a tough day.  You can use essential oils aromatically by simply opening the bottle and inhaling its aroma.  They can also be applied topically as a personal fragrance, but always dilute them with a carrier oil, which is a plant-derived oil like coconut or almond oil.  Dilute a few drops of essential oil with your carrier oil and then rub it into your palms and inhale or dab some behind your ear or on your neck. You can also use a diffuser to disperse the essential oil into the air.
Using Essential Oils Topically
Another favourite way to apply essential oils is topically, where you allow the oil to absorb into your skin.  As mentioned before, always dilute oils with a carrier oil before you apply them topically.  Topical oils can become part of a massage or added to your preferred lotion, moisturizer or other personal care product. Some oils, particularly those from the citrus family, can cause photosensitivity.  A carrier oil is a plant-derived oil like coconut and almond oil that can be used to dilute an essential oil's concentration.
Using Essential Oils Internally
If you think an oil smells terrific, wait until you taste it!  You can season your favourite dish or flavor a drink with certain grades of essential oils.  Ingesting oils lets you savor all their savory, herbaceous, spicy, fruity potential.  The simplest ways to take essential oils internally is to add them to a glass of water, take them in a capsule or use them as seasoning.  Start off with a small amount.  A little goes a long way, and even a single drop might overpower your recipe.  One recommendation is to dip a toothpick in the oil and stir that little bit in as a starting point.  Of course, before you use any oils internally, make sure the oil is safe to ingest.  Unless it specifically says on the label that it's safe for ingestion, assume it's safe for external use only.
Diffusing Blends with These Oils
How to Use Lavender Essential Oil
Chances are Lavender Essential Oil was one of your gateway oils! If not, you may be wondering what to do with it. The good news is that Lavender is possibly the most versatile oil and most popular oil.
The Young Living Training and Education team shares their favorite uses of Lavender in this Facebook Live. You can use in your aromatherapy to help calm and relax just before bed. Add it to your skincare routine. Or use it to help freshen your linens in a homemade linen spray.
Diffuser Recipes
Notes:
These are approximate drops.  Adjust these recipes to your needs.  If the recipe is too strong for you, add fewer drops.  Do you need more?  Just add more, but no more than 8-12 drops for all of our diffusers with the exception of the Aria diffuser which requires 15-25 drops.
Tip:  When you first begin diffusing, start with less and then build to more if desired.
Seasons Change
3 drops Lavender
3 drops Lemon
3 drops Peppermint
Stress Less
3 drops Lavender
2 drops Frankincense
5 drops Cedarwood
Take a Break
4 drops Lavender
3 drops Stress Away
2 drops Cedarwood
Happy Day
5 drops Lavender
4 drops Citrus Fresh
2 drops Joy
At Home Spa
5 drops Lavender
5 Drops Lemon
Open Skies
3 drops Lavender
3 drops Peppermint
2 drops Eucalyptus Blue
2 drops Lime
Lavender Lullaby
2 drops Lavender
1 drop Cedarwood
3 drops Bergamot
1 drop Vetiver
Fall Rain
2 drops Lavender
4 drops Bergamot
6 drops Clary Sage
Relaxing Lavender-Honey Bath
Here is a beautiful recipe to enjoy. Take your "me time" up a notch while soaking in this luxurious addition to your bath. Want to take your soak up to an even higher level? Add a half of cup of powdered milk to your running bath water.
Supplies
2 oz. of Organic Honey (very soothing for the skin)
5 drops Lavender essential oil
Optional- 1/2 cup Powdered Milk (moisturizing)
Instructions
Combine the honey and Lavender essential oil. Mix well. Store in a a jar with
a lid.
Use 1-2 tablespoons per bath. Add to the running water. You may also add
your 1/2 cup powdered milk if you desire, at this time. Enjoy to your hearts
content.
A Simple Way to Relax
Add Lavender to your bath to help create a relaxing environment.  This is such an easy addition to your bath, or even your children's bath.  Most of us are deficient in Magnesium and this is a great way to get this much-needed mineral into the body.
4 drops Lavender
1 cup Epsom salt
Calming Spa Bath Oil
Supplies
4 tablespoons of Young Living V6 Oil or Organic Sweet Almond Oil
12 drops Lavender essential oil
4 drops Cedarwood essential oil
8 drops Orange essential oil
2 drops Bergamot essential oil
2 drops Basil essential oil
Dark glass bottle to store it in
optional- 1/2 cup Epsom Salt to each bath (relaxing)
Instructions
Mix all ingredients together, except the Epsom salt. Store in a dark glass
bottle.
Add 1 tablespoon of this beautiful scented oil to your warm bath. You may
also add a 1/2 cup of Epsom salt to take your soak for all things peaceful.
Swish the water around and relax in your luxurious bath.
Lavender Mint Body Scrub
A beautiful floral body scrub with a touch of mint that will leave your skin silky smooth.
Supplies
1 cup of organic white sugar (or sugar of choice)
3/4 cup sea salt
1/2 cup of coconut oil (warm it up to become liquid)
1/4 cup almond oil (or carrier oil of choice)
1 tbsp. raw honey
10 drops of YL lavender essential oil
5-10 drops of YL peppermint essential oil
Instructions
Combine the sugar and salt.
Add the coconut oil and almond oil (or oils of choice).
Add the essential oils. If you like a strong scent, add a drop or two of additional essential oils; less scent, use a drop or two less. More texture needed? -add more sugar/salt.
Once you are happy with your scrub, put it in your glass container(s) of choice.
Note: This can make your shower/bath slippery, so be careful.
DIY Lotion Bar Recipe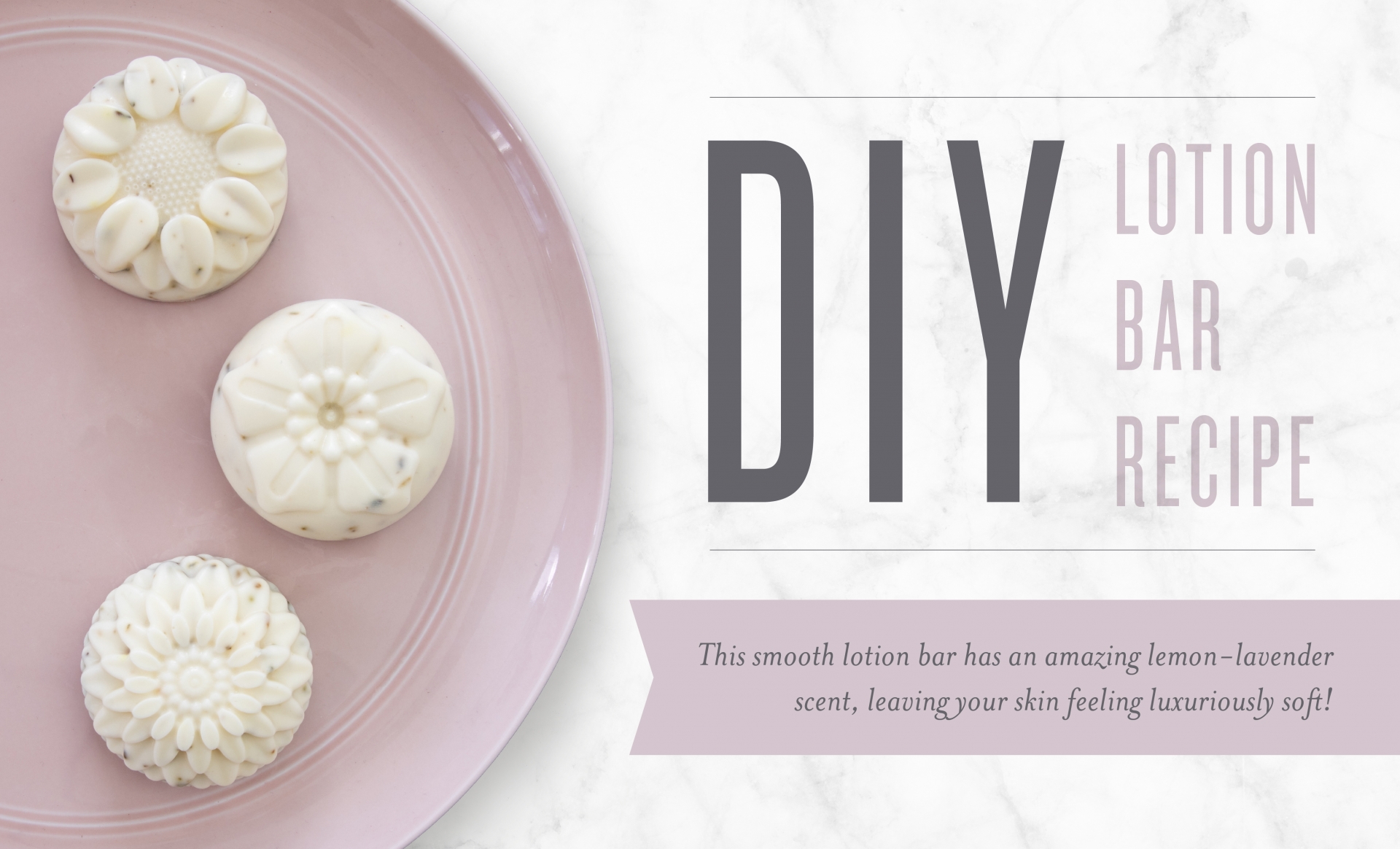 Give your skin some much-deserved love! Not your average moisturizer, this DIY lotion bar uses the warmth of your body to melt natural emollients and essential oils into the skin to smooth, moisturize and hydrate dry hands, heels, elbows, and more.
With a rich base of coconut oil, beeswax, and shea butter, this homemade lotion bar recipe has a smooth and rich consistency. We honestly can't get enough of the clean and fresh lavender-lemon combo we tried, but feel free to get inspired and create your own essential oil blend!
Bonus Tip: If you want to create an exfoliating texture, we recommend adding in some citrus zest, oatmeal, or dried lavender. Have fun experimenting!
Supplies
½ cup extra-virgin coconut oil
½ cup beeswax
¼ cup shea butter
¼ cup cocoa butter
15–20 drops essential oil of your choice (we recommend 10 drops of Lavender essential oil and 10 drops of Lemon essential oil)
Optional: dried lavender and lemon zest for exfoliation
---
Materials
16-ounce measuring cup
Medium-sized saucepan
Silicone molds or muffin tin
---
Instructions
Combine coconut oil, beeswax, shea butter, and cocoa butter in a 16-ounce glass measuring cup.
Place in a pot with water that rises to halfway up the measuring cup
Bring water to a boil, stirring frequently until ingredients are completely melted.
Remove measuring cup from the pot.
Add dried lavender and lemon zest, if desired.
Add essential oils and stir until completely combined.
Immediately pour into molds.
Let sit overnight.
Once cooled, remove the lotion from the molds.
Store in a cool, dry place.
DIY hair mask infused with essential oils
Your hair takes a beating from daily life. Dry air, pollutants, UV radiation, and styling can all tear at your tresses. So why not pamper your hair with a DIY hair mask? Check out this quick video that'll teach you how to make a hair mask that will leave your hair touchably soft and smooth.
This simple recipe combines the moisturizing power of coconut oil and the sweet and clean aromas of Lavender and Rosemary essential oils to tame those frizzies and flyaways back into glossy, beautiful hair.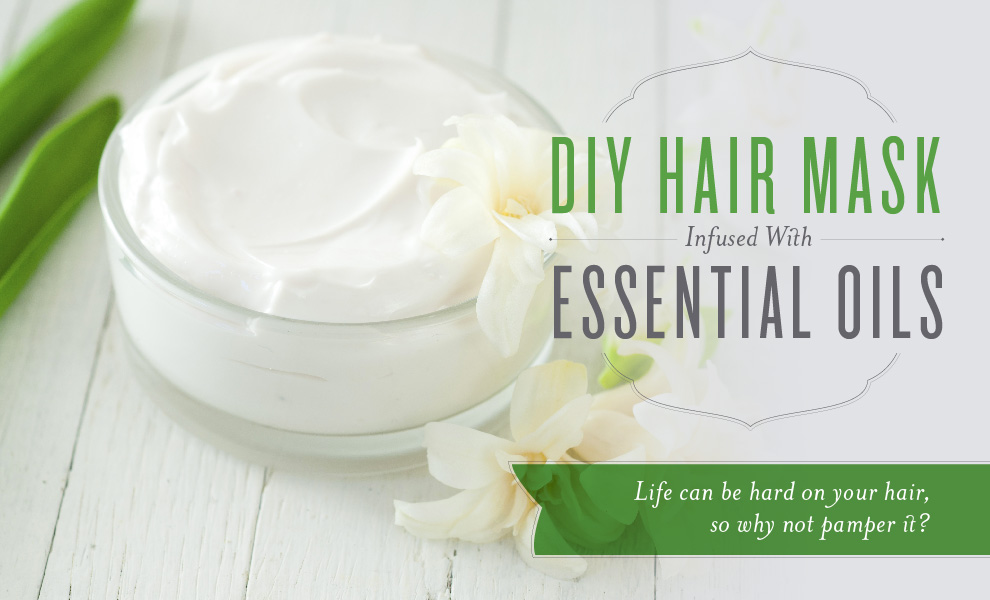 Supplies
Small glass bowl
Small saucepan
2 tablespoons coconut oil
4 drops essential oil*
Spray bottle of any size, filled with water
Towel
Wide-toothed comb
*We recommend 2 drops Lavender essential oil and 2 drops Rosemary essential oil
Instructions
Rest the rim of a small pot or glass cup inside the edge of a larger pot filled halfway with boiling water to act as a double boiler.
Add coconut oil to the glass bowl and warm until liquefied.
Add essential oils to the coconut oil.
Mix the ingredients together. Let cool and slightly thicken.
Put a towel over your shoulders to catch any drips.
Dampen your hair with a spray bottle.
Using your hands, apply the mixture to your hair and gently comb to disperse the mask.
Let the mask sit for 30–60 minutes before rinsing.
Wash and style your hair as usual.
Lavender & Magnesium Cream
For a beautiful nights rest, try this Lavender and Magnesium Cream.  I try to use it every night.  My body thanks me, and so do my "softer" feet.
Supplies
1/2 cup Magnesium Flakes
1/3 cup Coconut Oil
2 Tablespoons Beeswax Pellets
3 tablespoons Shea Butter
Boiling Water
10-15 drops of Young Living Lavender Essential Oil
Instructions
Place magnesium flakes in a small bowl.  Pour 3 Tablespoons of boiling water into it.  Stir until dissolved.  It will create a thick liquid. Set aside.
In a small pot, add 1-2 inches of water.   Place a glass bowl on top-do not let it touch the water below.  Place on stove burner.  Add coconut oil, beeswax pellets, and shea butter.  Turn burner on a medium/low heat. Stir until melted.
Once melted, remove from heat.  Allow mixture to cool completely (you can put in fridge to speed this process up) to room temperature.  It should be slightly opaque.
Using a hand mixer on medium speed, start blending, slowly adding the liquid magnesium, a tablespoon at a time. Continue to blend until all magnesium has been added and is well mixed.
Lastly, add your YL Lavender.  Continue to blend until well mixed.
Optional: Place in the fridge for 15-20 minutes.  Re-blend to get more of a
body butter consistency.
Store in a glass container.  Apply to feet every night before bed.
Original recipe from Oily Rockstars
Lavender Linen Spray
Here is a gentle , calming spray to lightly mist your pillows and sheets with before bedtime.
Supplies
2 oz Spray bottle
3 drops Lavender Essential Oil
2 drops Roman Chamomile Essential Oil
Distilled Water
Pinch of Sea Salt
Instructions
Add pinch of sea salt, and essential oils to a 2 oz spray bottle.
Fill with distilled water.
Shake well before each use.
* The statements and information regarding this product  have not been evaluated by the FDA.  Young Living products are not intended to diagnose, treat, cure, or prevent disease.  Most of the product information describing Young Living products is directly from Young Living Essential Oils, LC, and can be found online at YoungLiving.com